Antarctic Atmospheric River Workshop
Boulder, CO - University of Colorado campus and Online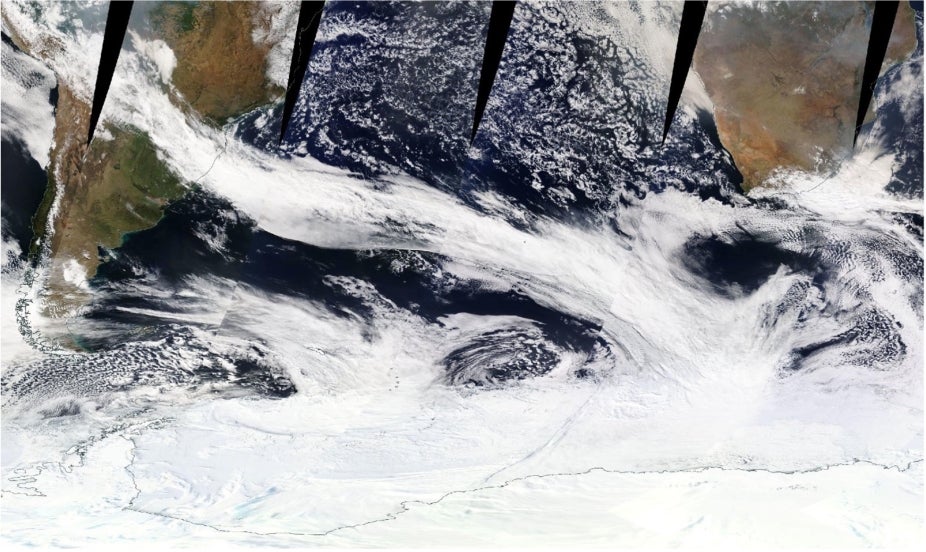 Jun. 27 to Jun. 29, 2023
8:00 am – 5:00 pm MDT
Boulder, CO (CU campus) and Online 
Main content
Atmospheric rivers (ARs) are an important component of the hydrological cycle and have been increasingly  recognized as critical to Antarctic meteorology and climatology. Since just 2014, atmospheric rivers have been identified as a sub-tropical link to the Antarctic continent and create extreme atmospheric conditions that are largely consequential to surface melt, snowfall, and ice-shelf stability.
The goals of this workshop include reviewing  the current state of knowledge, identifying research gaps and emerging science, as well as actively beginning a review paper.  Specific science categories include tools, dynamics, impacts, energy and moisture budgets,  climate change and variability, and cross polar themes. 
Registration:
Please use this link to register or submit an abstract. Abstracts are due Friday, May 19th, 2023. 
Payment:
Registration is $20 to attend in person. There is no fee required to participate only online. Please use this link and under "Select an item or event to pay:" choose "Antarctic AR Workshop"
A payment deferment may be requested on the registration form, and payment can be completed any time before the workshop. Payment is not required to submit an abstract.
Lodging:
There are many options in Boulder, ranging from hotels to room and house rentals. Below are some options, and please keep in mind that Boulder is very busy in the summer and rooms book quickly!
Homewood Suites by Hilton Boulder
4950 Baseline Road, Boulder, CO 80303
303-499-9922  
Comfort Inn and Suites Boulder
4777 North Broadway, Boulder, CO 80304
303-442-6600
4710 Pearl E Circle, Boulder, CO 80301
303-440-4700 
   
Embassy Suites by Hilton Boulder
601 Canyon Boulevard, Boulder, CO 80302
303-443-2600    
2701 Canyon Blvd, Boulder, CO 80302
303-443-2200     
Hyatt Place Boulder/Pearl Street
2280 Junction Pl, Boulder, 80301
303-442-0160  
2660 Canyon Blvd, Boulder 80302
303-440-8877    
   
Residence Inn Boulder Canyon Boulevard
550 Canyon Boulevard, Boulder, CO 80302
303-577-7300    
If you have further questions about travel or wish to plan to share lodging, please email Rebecca Baiman, Rebecca.Baiman@colorado.edu.
Arriving from the Airport
Denver International Airport (DIA) is 45 miles from NCAR and there are several ways to arrive. 
The AB bus (westbound to NCAR) is the least expensive option. It leaves the airport every half hour (see schedule) and stops throughout Boulder. GoogleMaps, on your phone or computer, also has up to the minute bus scheduling information.
RTD's website will also help you plan your travel by bus to destinations throughout the Boulder region (including Longmont, Louisville, Lafayette, Superior, etc.) and to Denver International Airport.  RTD Trip Planner.
Eight Black is a shuttle service from DIA. Major credit cards are accepted and it is highly recommended that you make a reservation.
People also use Lyft and Uber from the airport to Boulder. This can be expensive.
Getting around Boulder
B-Cycle  is a non-profit bike-sharing app that you can use to rent bikes from the 41 stations around town.
Lime has e-scooters for rent in East Boulder and must be ridden on multi-use paths and bike lanes.
HOP is useful for getting around to the city's most popular attractions and arrives every 7-15 minutes.
More information can be found on the City of Boulder website. 
The Weather
Coloradans like to say, "if you're tired of the weather, wait 20 minutes."
The weather can change without notice and it is good to be prepared. Dress in layers and have rain gear in your backpack when hiking. Summer can bring very hot and dry weather with afternoon or evening showers. It is usually cool at night and sweaters can be necessary when hiking, especially at a higher elevation. In addition, thunderstorms are common in the summer as well. 
Boulder is 5,430 feet (1,655 meters) above sea level. At this elevation, it is important to stay hydrated and wear sunscreen and sunglasses. If you are coming from a lower elevation, it is likely that you will notice the effect of the altitude. Some people experience headaches, dizziness, shortness of breath, nausea, and general fatigue. It is advised to drink plenty of water, especially in the week leading up to arrival.
Contact
Please direct questions/comments about this page to: